OUR HUMBLE BEGINNING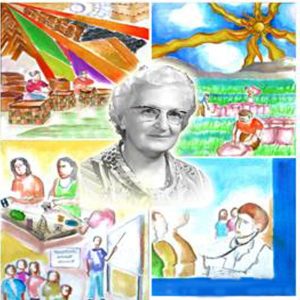 From the belief of Sister Juliaan Mullie, ICM, a Belgian missionary nun, that one can "Fight Hunger Through Work", SAFFY or Social Action for Filipino Youth saw the light of day in 1966.  This organization created alternative sources of livelihood for the unemployed and out-of-school youths living in the marginalized areas of Manila.
The organization was later incorporated in 1970 as Social Action Foundation for Rural and Urban Development, Inc. or SAFRUDI, a non-stock, non-profit social development entity imbued with Christian values.
Through more than four decades, SAFRUDI continued to pursue its social enterprise objectives, retaining SAFFY as its trade name to send quality Fair Trade exports to Europe, North America and Asia-Pacific. In the domestic market, its ManoMano Store brought the same Filipino-crafted products closer to the hearts of Filipinos.
At the same time, through its ISDP( Integrated Social Development Programs), the Foundation acted, and still continues to serve, as a catalyst in the formation and development of grassroots Peoples Organizations. These groups' dedicated volunteer leaders and members receive regular training and project subsidies to enable them to lead their respective communities in the journey towards self-reliance and become contributing members to nation-building.
The year 2013 saw the spin-off of SAFFY, Inc. as an independent trading corporation to focus and carry on the organization's relationships with partner buyers and customers, as well as independent producers and artisans, under the guidance of the Fair Trade principles. Through this Corporation, the Foundress' belief would thus be further concretized in the creation of better opportunities empowering marginalized and small producers and their artisans as well, while promoting globally Filipino ingenuity and craftsmanship as reflected by each of its Fair Trade products.
A community witnessing to God's words and deeds and striving to establish a web of self-propelled communities towards total human development.




To organize marginalized communities and small producers to become self-reliant, to share knowledge, skills and resources in promoting livelihood, health and sustainable agriculture, and to create and market new products according to Fair Trade standards.




We VALUE openness to learning, fair practices, family and teamwork.

We BELIEVE in participative transformation.

We PRACTICE deeper integration with the marginalized and poor members of society through creative and liberating processes.

WFTO Fair Trade Principles

1. Creating Opportunities for Economically disadvantaged producers.

2. Transparency and Accountability

3. Fair Trading Practices

5. Ensuring no Child Labor and Forced Labor

6. Commitment to Non-Discrimination, Gender Equity and Freedom of Association

7. Ensuring Good Working Conditions

8. Providing Capacity Building

10. Respect for the Environment




Fair Trade is a trading partnership, based on dialogue, transparency and respect, that seeks greater equity in international trade. It contributes to sustainable development by offering better trading conditions to, and securing the rights of, marginalized producers and workers especially in the South.

Fair Trade seeks to improve the lives of producers and artisans (artisans – a worker in a skilled trade, especially one that involves making things by hand) by guaranteeing they receive fair prices for their products. This enables them to address basic needs like education, health care and gives birth to new opportunities for growth in their livelihood and overall living condition.

Fair trade also helps producers through giving them skills training in the different aspects of livelihood management like community organizing, product development, marketing and production seminars. Training workshops and symposiums are also utilized to further enhance their knowledge on relevant information and issues.

The goal of SAFFY, Inc is to allow producers to eventually become self-reliant through their own cooperatives and organizations so that they can be independent and a big business enterprise.